Katmai National Park – Bears and Salmon Expedition – July 3–7, 2018
Join a small band of adventuresome photographers on an intensely exciting trip to Alaska's remote Katmai National Park. We will be staying at the world-renowned Brooks Lodge, literally surrounded by bears (don't worry, though — the area is patrolled and safeguarded by National Park Rangers). You will enjoy:
Small-personalized trip to one of the most remote National Parks.
An unforgettable experience not to be found anywhere else in the world.
One night's lodging in Anchorage upon arrival in Alaska (July 3) and one night's lodging in Anchorage at the conclusion of the our (July 7). You will have a room all to yourself, and breakfast each morning.
Three nights' lodging in Brooks Lodge, in the heart of Katmai National Park, surrounded by opportunities to observe and photograph the seasonal gathering of brown bears. Brooks Lodge has very limited capacity — only 16 rooms, and we have two of them (four persons per room), each with modern, private bathroom.
Three long days of bear viewing and bear photography at Brooks Falls and along the Brooks River.
Flights from Anchorage to Brooks Camp in Katmai National Park, and from Brooks Camp back to Anchorage.
Expert advice on gear and camera settings to help you get the best possible photos of the action. We will provide you a wealth of information to help you plan your visit to Katmai.
A lifetime of memories and stories of your adventures with the bears of Katmai National Park.
Limited to 7 Participants — Double occupancy in Katmai; $4250
Single Supplement— $400 Anchorage Rooms Only Brooks Lodge requires double occupancy
Minimum 4 Participants
To register, click here:
During this trip, you will view and photograph one of the greatest seasonal concentrations of top predators anywhere on earth — the annual gathering of brown bears along the Brooks River in the heart of Katmai National Park. Katmai hosts an incredible density of brown bears — the largest carnivores in North America — with as many as fifty bears living along a 1.5-mile section of the Brooks River. This seasonal gathering is triggered by migrating sockeye salmon in late-June and early-July, prompting the bears to gather at Brooks Falls and along the Brooks River to feed on the bounty. Over the course of a few weeks, several hundred thousand salmon will try to make their way up the Brooks River and past the Falls, and the bears have learned to anticipate this opportunity. Normally, brown bears are solitary creatures, but with abundant food readily available, the bears are more willing to tolerate one another; as many as 25 bears have been seen fishing at Brooks Falls at the same time. You will see a wide variety of fishing techniques — some bears quietly wait in still water, watching for unwary salmon; others prefer to fish in fast-moving water; some bears use their paws, while others attempt to use their powerful jaws to catch jumping salmon in mid-flight; and some bears run and bound over long stretches of the river, apparently hoping that by covering more water, they have a greater chance of encountering a meal.
Occasionally, you will see some preliminary courting. And at other times, the scene is not so peaceful; dominant bears, usually males, will attempt to displace other bears from prime fishing spots. Conflicts can occur, and can escalate — sometimes just a facedown, sometimes a more serious attach, with teeth and claws brought into action; many bears show visible scars from such encounters. Furthermore, some male bears have been known to attack cubs — and mother bears will do their best to defend their cubs, running the cubs up nearby trees, and facing down the male (see this YouTube video). In short, you will find lots of action at Brooks Falls and along the Brooks River — and sometimes high drama. Amazing photo ops everywhere!
This trip does not include —
Your airfare to and from Anchorage.
Meals in Anchorage or at Brooks Lodge.
Trip insurance (highly recommended).
Itinerary —
Tuesday, July 3 —
Arrive Anchorage. Make your flight reservations to arrive in Anchorage no later than Tuesday, July 3. Our hotel has a shuttle service and will pick you up at Anchorage International Airport. If you arrive by 5:00 PM, you are welcome to join us for dinner downtown.
Wednesday, July 4 — Independence Day —
Flights to Katmai National Park. We will depart Anchorage in the morning, flying first to King Salmon, about 35 air-miles from Brooks Camp; this flight will take just over an hour. At King Salmon, we will board a Katmai Air floatplane, which will shuttle us to Brooks Lodge; this flight will take about 25 minutes, and will pass over some spectacular wilderness scenery. We will land on Naknek Lake, immediately adjacent to Brooks Camp; the lake is tinted with a remarkable aquamarine color as a result of volcanic ash and glacial particles suspended in the water.
Upon arrival at Brooks Camp, we will attend a bear safety briefing by a National Park Ranger. Then we are off to see and photograph the bears!
You can watch the bears and photograph them all day long. We will return to the Lodge for dinner, but will head back out more more bears after dinner. Due to the significant chance of encountering bears on the Brooks Falls Trail, we strongly advise you to walk with a group whenever you head out to one of the viewing platforms or when heading back to the Lodge or the restroom.
Thursday, July 5 and Friday, July 6 —
Breakfast at Brooks Lodge.
After breakfast, we will head out to view and photograph the bears, with breaks for lunch and dinner.
If you are interested in more than just bears, there is a daily tour (8:30 AM—4:00 PM) of "The Valley of 10,000 Smokes," the site of one of the most violent volcanic eruptions in recorded history — Novarupta Volcano exploded in June 1912 with blasts of hot wind and gas which spewed enormous quantities of hot, glowing pumice and ash over the surrounding terrain, destroying all living things and burying more than 40 square miles of lush green valley under deposits of up to 700 feet. This tour is available through Brooks Lodge for $96 with a sack lunch or $88 without lunch. Canoe and kayak rentals are also available. If you are interested in fishing, let us know and we will provide information.
Saturday, July 7 —
Breakfast at Brooks Lodge, and if time permits, a last visit with the bears.
Flights back to King Salmon and Anchorage.
Our tour ends when we arrive back in Anchorage, but we will provide overnight lodging in Anchorage if your flights home will be on July 8.
Getting to the Bears — There are three viewing platforms along the Brooks River — the Lower River Platform is 0.3 mile from the Visitor Center, the Riffles Platform is 1.0 mile, and the Falls Platform is 1.2 miles. These platforms are designed to allow great viewing of the bears, while keeping them away from guests; a National Park Service Ranger staffs each platform, and additional Rangers patrol the area.
But you can encounter bears anywhere in the area, particularly along the trail to the Riffles and Falls Platforms, as these trails essentially follow paths the bears have been using for generations. Due to the significant chance of encountering bears on the Brooks Falls Trail, we strongly advise you to walk with a group whenever you head out to one of the viewing platforms or when heading back to the Lodge or the restroom. The Falls and Riffles Platforms are open from 7 AM to 10 PM. The Lower Platform is always open.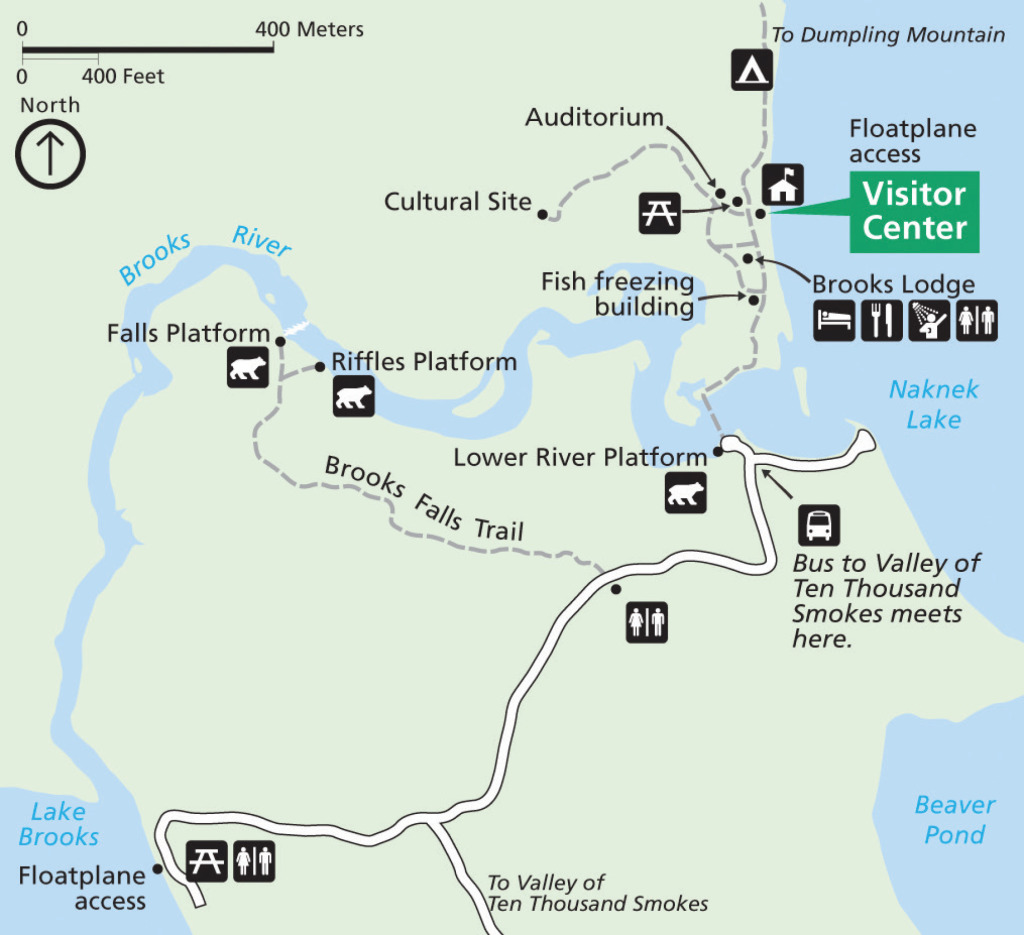 Restrooms are located at Brooks Camp and where Brooks Falls Trail meets the main trail to the camp.
Important — You are not allowed to take any food, any snacks, any candy, or any drinks other than water outside the developed area of Brooks Camp. This is essential to prevent bears from becoming conditioned to and attracted to human food.
Meals at Brooks Lodge ­—Meals are not included in this tour. Brooks Lodge has buffet meals available, and the food is good —
Breakfast (7:00 AM—8:30 AM), $17 (includes: ice tea, lemonade, water)
Lunch (11:30 AM – 1:30 PM) — $24.00 (includes: ice tea, lemonade, water)
Dinner (5:30 PM – 7:30 PM) — $40.00 (includes: ice tea, lemonade, water)
There is no laundry service, cell phone service, or Internet service at Brooks Lodge.
Weather — In early July in Katmai National Park and King Salmon, we typically see high temperatures in the low-to-mid-60s (F), with lows in the upper 40s. Rain is always possible, so be prepared to protect your gear and yourself while out shooting. Dress in layers.
Sunrise / Sunset — We expect ample daylight during our time in Katmai National Park — sunrise will be about 4:30 AM, and sunset will be about 11:30 PM — and there will be no "pitch dark" at all; twilight will be present continually from sunset to sunrise.
Travel Insurance — Travel to and from King Salmon and Brooks Camp can be affected by weather and other factors. RRPT is not responsible for any delay or cancellation made by one of our air carriers or other service providers or for any resulting losses. We strongly advise the purchase of travel insurance. Travelinsurance.com offers many different options from various vendors and allows for product comparison.
Participant Information, Waiver, and Release – click here.
Healthy Packing List – click here.
Bear Encounters in Katmai – Safety Information – click here.
Additional Information —
E-book: Bears of Brooks River 2016(107 MB) — An excellent guide to brown bears, the Brooks River environment, and the bears that return to Brooks year-after-year. Includes photos of many specific bears to help you identify them, and provides an overview of what is known of each bear's life history.
Brooks Falls Cam. Watch brown bears fish for salmon and compete for the best fishing spots at Brooks Falls.
Upon registration, we will send you a packing list and additional information to help you plan your trip to Anchorage and Katmai National Park.
Katmai National Park – Bears and Salmon Expedition
1,237 total views, 1 views today