Demystifying Lightroom!
A steal at $5.99!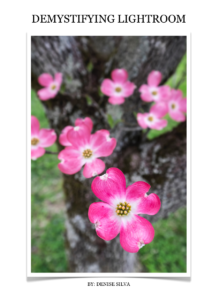 This book demystifies Lightroom, chock full of step by step instructions and illustrative images to guide you through:
Setting up your Preferences to Optimize the functionality of Lightroom.
Importing images into the Library, including how to embed your contact information into the metadata of the image file and how to utilize Lightroom to organize your images.
Developing images to create your vision, going through each section and slider in the Develop Module.
Creating watermarks and Export presets, including Publish Services.
Introducing Map, Books, Slideshow, Print, and Web Modules.
Updated to reflect changes in Lightroom 6!
This book will help you gain confidence in Lightroom, so that you can turn your original files into beautiful unique pieces of art that you will be proud to share with family, friends, and customers alike!
We have 3 easy ways to purchase Demystifying Lightroom. You can purchase a copy from iTunes using the button below, you can purchase with a credit card using the other button below or you can purchase using PayPal by clicking on the small text below the picture of the book above that says "buy". If you use PayPal from our site you will be taken to PayPal to complete the transaction. There will be a page on the PayPal site that takes about 10 seconds to refresh. During this time PayPal is communicating back to our site that you completed the purchase. Upon return to our site you will taken to a landing page and there will be a link to download the book. If you have any difficulties please e-mail denise@roadrunnerphotographytours.com, please allow sufficient time for me to respond.
1,889 total views, 2 views today